Arm Candy is in evitable and a timeless accessory. With the advancement of technology in fashion there are so many, different forms of bracelets and watches that are pushing the envelope in tech fashion. The technology industry is providing efficiency and effectiveness in fashion. As consumers we see ourselves syncing our devices and sharing our lives more. It's as simultaneous as checking our email and social media when you wake up. We're now slipping on watches and bracelets to help us communicate.
With the development of wearable technology, fashion brands have tapped into this industry and began contributing to the developing market. I've been watching the growth of fashion and technology, it's the primary purpose that drove me to start this blog. The growth is exciting and the development in this industry is growing rapidly. Everyone wants to be the next best innovator, and it become very competitive .
But, for all the non techies don't fret you have the fun job. You can wear these innovative accessories. I compiled a list of wearable tech for your wrist. There is a little of something for everyone; from the social media socialite to the aggressive fitness guru. These can also make up some great gifts for Christmas list. Review the specs, and where to buy them. I've also included some affordable options, so that everyone can enjoy these fashionable perks.
This band is made for the socialite. Made with the stylish party goer in mind; with cool specs like band customization, syncing your band with friends and wireless charger. The band lights up as it syncs to the sounds and beats of the music.
Swarovski created a fitness tracking band that gleams and shines for all tech savvy divas. By tapping the immensely large crystal you can sync to your phone, the led light acts as the minute hand, and it tracks your daily health progress with an in phone app. You can keep up with your busy lifestyle, with a healthy and manageable crystal tracker. Customizable via the wrist band and the size and type of crystal you wish. Keeping it fun and affordable for everyone. Not to mention the flexibility as you can clasp it to your workout gear for a quick run. It's also the first solar powered fitness tracker on the market.
Want a smartwatch that still holds the essence ofa classic time piece; Michael Kors has the perfect smartwatch for you. You can pick between the original smartwatch or a hybrid version. You can really monopolize the the usage of a smartwatch. Allowing you to switch between time zones and 6 months of battery life, this watch is the ultimate multitasker. Voice recognition, water resistent, text alerts, and track your fitness activity, with a built in language translator. Packed with useful specs, this is a great investment for any style jetsetter. Don't forget that you can customize the bands and the faces of your smartwatch as well.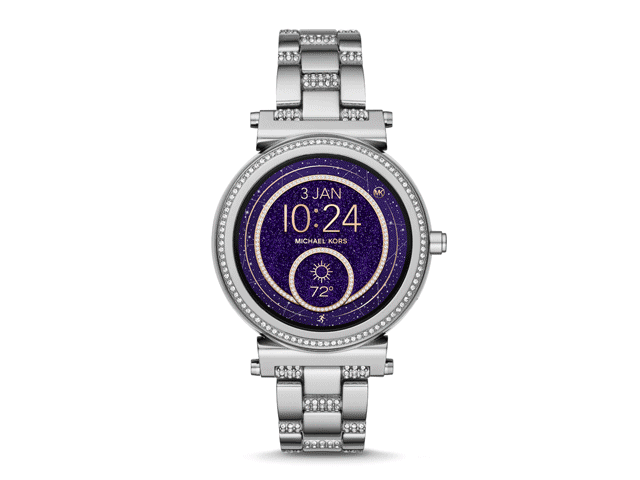 In the shape of a leaf. This brand has a large number of backers that are pushing it's wellness mission to the masses. The Bellabeat is a pendant that can be a bracelet or a necklace. It's super cute and simple leaf shape can track your health to increase a healthier lifestyle. The pendant is like a remote wellness coach. Tracking your health, water intake, and wellness. It's fairly new on the market and is really picking up momentum. Geared to those who are focused on improving their lifestyle. The cute and quaint design allows the buyer to live healthy in style.